DEVILDRIVER (death-metal, USA) sortira un album de cover-songs country le 6 juillet prochain sur le label Napalm Records. Il s'intitulera Outlaws 'Til The End. Pour l'occasion, le groupe sera accompagné de John Carter Cash (le fils de Johnny Cash), Hank Williams III et bien d'autres avec les featurings de Ana Cristina, Randy Blythe et Mark Morton (LAMB OF GOD), Lee Ving (FEAR), WEDNESDAY 13, Burton C. Bell (FEAR FACTORY) et Brock Lindow (36 CRAZYFISTS).
Cet album promet d'être à la fois une preuve d'éclectisme et de distinction de la part de ce groupe qui a marqué le monde du metal depuis quinze ans. La voix du groupe, Dez Fafara, nous explique : "J'ai toujours été attiré par différents styles de musique authentique tels que le blues, la musique goth comme BAUHAUS et SISTERS OF MERCY, autant que des monstres de l'outlaw-country comme JOHNNY CASH, WAYNE "The Train" HANCOCK et WILLIE NELSON. Ces choses m'ont toujours attiré et c'est ce qu'on nomme le génie. Le blues et l'outlaw-country sont les racines du rock n' roll, ils étaient là avant le rock et ont toujours sonné heavy dans ma tête." L'album proposera des reprises inspirées et boostées par la puissance de DEVILDRIVER.
Outlaws 'Til The End a été produit, mixé et enregistré avec Steve Evetts (DILLINGER ESCAPE PLAN, SEPULTURA, THE CURE), assisté de Mike Sprietzer, le guitariste de DEVILDRIVER prêtant également des talents dans ce domaine. L'album a été masterisé par l'ingénieur renommé Alan Douches.
Pré-commandes : http://smarturl.it/OutlawsTilTheEnd-NPR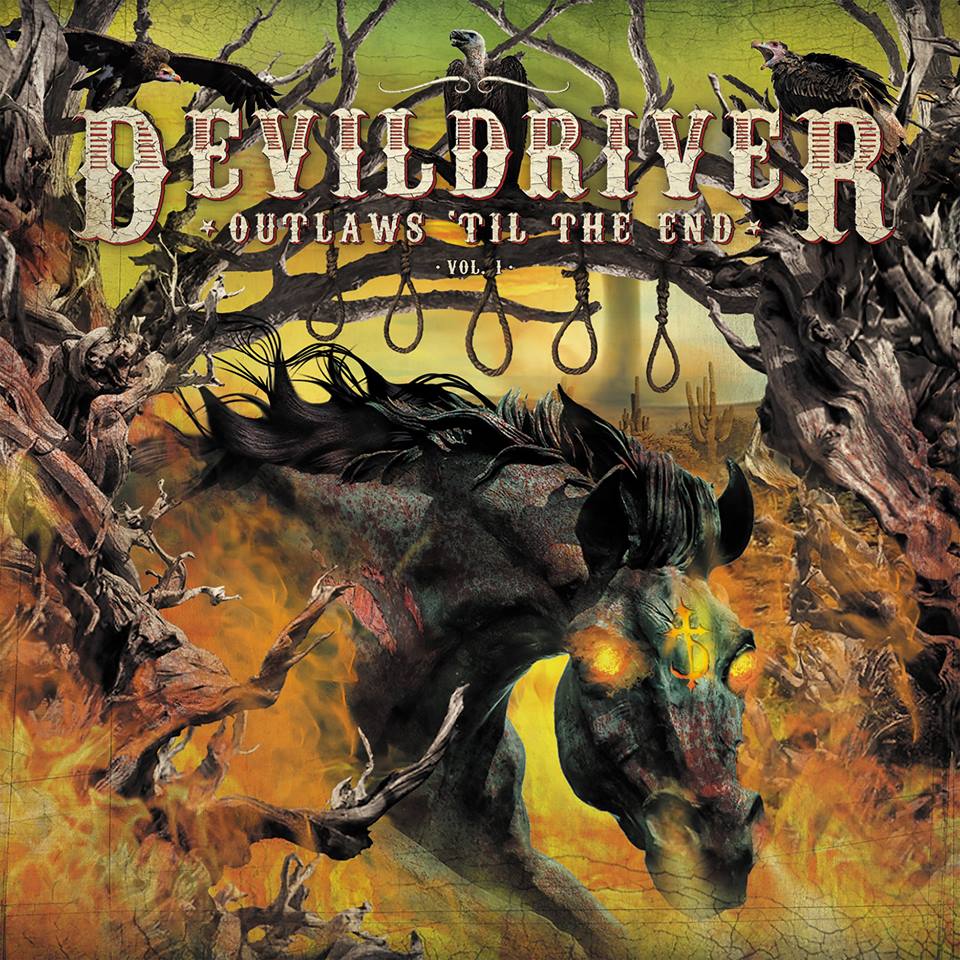 DEVILDRIVER - Outlaws 'Til The End tracklisting:
01. Country Heroes
Written by Hank3
Performed by Hank3 & Dez Fafara
02. Whiskey River
Written by Johnny Bush and Paul Stroud; recorded by Willie Nelson
Performed by Randy Blythe, Mark Morton of LAMB OF GOD & Dez Fafara
03. Outlaw Man
Written by THE EAGLES
Performed by Dez Fafara & Neal Tiemann of DEVILDRIVER
04. Ghost Riders in the Sky
Written by Stan Jones
Performed by John Carter Cash, Ana Cristina Cash, Randy Blythe & Dez Fafara
05. I'm the Only Hell Mama Ever Raised
Written by Bobby Bobby Borchers, Wayne Kemp, Mack Vickery; recorded by Johnny Paycheck
Performed by Dez Fafara & DEVILDRIVER
06. If Drinking Don't Kill Me
Written by Harlan Sanders, Rick Beresford; recorded by George Jones
Performed by WEDNESDAY13 & Dez Fafara
07. The Man Comes Around
Written by Johnny Cash
Performed by Lee Ving of FEAR & Dez Fafara
08. A Thousand Miles from Nowhere
Written by Dwight Yoakam
Performed by Dez Fafara & Neal Tiemann of DEVILDRIVER
09. Copperhead Road
Written by Steve Earle
Performed by Brock Lindow of 36 CRAZYFISTS & Dez Fafara
10. Dads Gonna Kill Me
Written by Richard Thompson
Performed by Burton C. Bell of FEAR FACTORY & Dez Fafara
11. A Country Boy Can Survive
Written by Hank Jr.
Performed by Dez Fafara & DEVILDRIVER
12. The Ride
Written by J.B. Detterline Jr., Gary Gentry; recorded by David Allan Coe
Performed by Lee Ving of FEAR & Dez Fafara