PETROLIO returned a few weeks ago with Club Atletico (review, in French), an exploration full of oppressive atmospheres of the nightmares of the detention centers of the Dirty War in Argentina during the 70s. Enrico Cerrato tells us what inspired him and talks about what we can expect for the future. The italian artist certainly is a gentleman and took the time to answer to our questions both in English and French.
Hello Enrico. Could you start by telling us what is Club Atletico about ?
Hello friends and listeners, Club Atletico is my new EP which is inspired by the movies of Marco Bechis about the Argentine dictatorship. It is an interest that has been with me for some time: it has been 360-degree research on contemporary history starting from the Second World War, looking at what has marked us year by year. It is clear that what is happening, starting from the 1930s up to some horrible events of the present-day reveals the macabre ability of human beings to push themselves into unthinkable abysses of cruelty. The Argentine dictatorship, as well as other South American dictatorships of that period, was remarkably brutal and ferocious towards those who opposed their ideas. An obscurantist dictatorship that has been nonetheless accepted by the civilized Western world.
Why did you pick this theme, what attracted you in it? I guess that choosing a prison from the past is not a random harmless choice...
For a long time I wanted to focus the attention on the issue of the Argentine dictatorship, in particular on the detention places and the atmosphere of silence, fear and omerta that surrounded them. I wanted to create something suitable to remember that historical moment, evoking the mentioned feelings into the listener and even so leaving open a window to allow the light to leak.
Talking about imprisonment or confinement, is also, in some way talking about escape. Your EP has some oniric or even psychedelic sounds... Would you say that it's also a music to escape reality?
Since I started working on Club Atletico, I have tried to create dark and intimate atmospheres and at the same time open small cracks of light. Cruelty is part of human beings: seeing that we do not learn from history, which cyclically repeats itself, we always seek light to follow in order to redeem ourselves and start again.
I had this feeling that your music was less "abstract" than before. Did you change your approach or the instruments you use?
I think yours is a very good observation, especially compared to the previous record. L+ES was an abstract record, full of strong contaminations, extreme noises and dissonant melodies. With Club Atletico I sought a more atmospheric approach by using samplers to reproduce bows and synths that have been subsequently processed.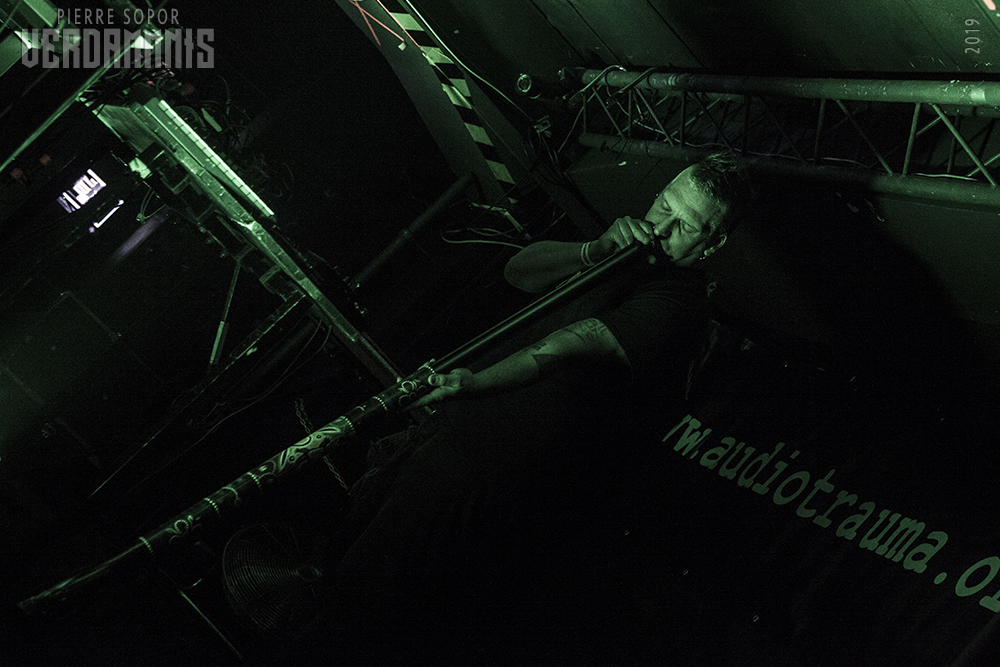 It's easy to see a parallel between the current world situation and the topic of imprisonment...
The recent pandemic has revealed how individual freedom and health safety matter. The restrictions that have been put in place have limited our habits and freedom to circulate and the way they have been imposed, although not violent, left me concerned. Surely I learned how important reliable information is: it is essential to go over the first pages and explore further the information the media proposed to us. Rather than imprisonment, I have experienced communication chaos which equally endangers the concept of democracy as we have known it in the past.
I know that the visual aspect of your work is also very important. Do you already work on the video you'll project live?
Yes, absolutely. The new recordings will be played live with new videos, some of them sent by fellow musicians or friends that I met during the previous tour. My aim is to tell others' stories with their lives and visions. I'm also working on a noisier and fiercer album which will go together with extreme video mappings.
I've read that you're thinking about adding voices in PETROLIO. What convinced you? Would it be more for musical or narrative purpose? Will it be your voice?
I have a strong respect for my audience and I would never "devastate" them with my voice. With Depths, we decided to carry on a project with some guests who will complete Club Atletico working with their voices and lyrics on the tracks while enriching the EP with art and new meanings.
Thank you very much ! Would you like to add anything?
Thanks for all the support! I hope we will return soon to crowd clubs and stages all around Europe.