Deprived of touring in 2020 due to a pandemic, the nu-metal group from Switzerland CHAOSEUM has not remained inactive despite everything and have released this year an album of acoustic covers as well as a new single heralding a future opus. In order to learn more about the band and its future projects, we asked a few questions to Valery Veings, guitarist and founding member, who agreed to give us an update.
Your new single Unreal has just been released. What are the returns so far?
The first returns are good. We passed 100k views after 4 days on YouTube, which for us is pretty positive. We are seeing a wave of new followers on the various streaming platforms as well.
You released this year an album of covers in acoustic format of songs drawn from your previous albums, what was the reception?
We were sure of nothing. This album was not planned but with the fact of having released Second Life in 2020 and that its tour was postponed to 2022, we wanted to stay active and release something this year. Making an electric album when the tour has yet to take place didn't make sense. We took the option of an acoustic album shared between new titles and arrangements of existing songs. Therefore, we did not know if it was going to be well received for a group that only had two studio albums. In the end, the result is pleasing.
Will we be entitled to other acoustic songs in the future?
A priori not immediately but why not in the future. At this time, no work is focused on this vision.
Your musical style changed between your first two studio albums. Did the arrival of CK Smile in the band lead you to this change or is your current sound more in line with what you originally wanted to do?
The arrival of CK has a strong impact on how the band sounds. First of all his voice changes the atmosphere of the songs, but in addition he contributed to the writing of Second Life . We had a heavy / metalcore style on the first album while now we are navigating a rather nu-metalcore register.
Can you explain your composition process to us? For example, do you start with the texts and then the instrumentations? Who is most involved in this process?
There is not a precisely defined rule. Loïc usually brings the musical part he shares with CK. In collaboration, they finalize the framework. Greg and I bring a little touch with our style of play. Regarding the lyrics, that's CK and myself. The lyrics always come after the music because the latter inspires us for the theme of the lyrics. The edgelines are then created by CK. For example, on Feel, we were just timing. I wrote the lyrics and CK took them on the last day of the studio and improvised the vocal line.
Some of your tracks are very reminiscent of KORN, and the new single Unreal continues on that path. CK Smile also seems to take a lot of inspiration from Jonathan Davis for his singing. Are you not afraid that the listeners will stop at this resemblance? Which can be both positive and negative...
This is absolutely not our objective. Certainly Smile Again pays tribute to a group that CK, Greg and Loïc really appreciate, but for us it stops there. People think CK is imitating Jonathan Davis, but that's not the case. His tone of voice is close and he is not going to change his voice because of this resemblance. Moreover, we refused all label proposals in order to be able to continue according to our wishes. In short, we play the music we want to play.
Which groups influence you or have influenced you the most? Who would you like to collaborate with?
The influences are very numerous, whether in nu-metal or metalcore. For my part, I have always been a fan of IRON MAIDEN or even JUDAS PRIEST. These influences are felt on the guitar solos, which explains why these solos are often alternated. For my part, I would collaborate with many artists, difficult to make a choice, but I would say ALICE COOPER, especially for a tour.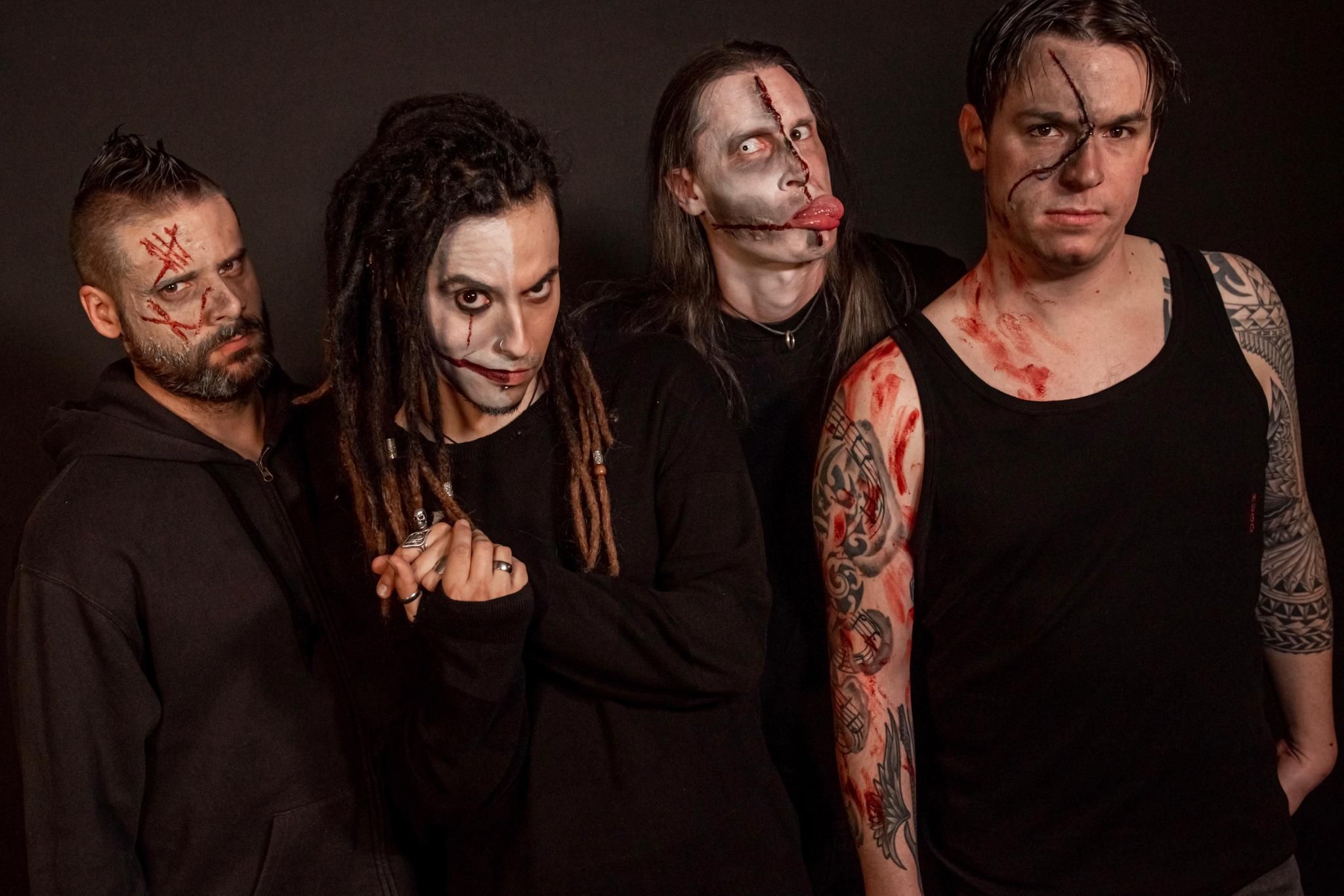 We seem to be witnessing a great comeback of neo metal, with more and more bands taking inspiration from what was happening in the early 2000s. How do you explain that? Do you think this is a natural cycle in music, with artists reproducing what they listened to when they were teenagers, for example?
This is very often the case in genres of music that are not just a fad. It's a second wind of metalcore and nu-metal that has been happening for some time and fans are rejoicing.
Is there a story behind the characters played by the band members? A common story or specific to each entity?
The idea at the start was simply to bring more than sound to concerts. It's very usual to see that in black metal, there is a very strong image. However, we shouldn't get too close to this type of makeup, our style of music is different. As a result, we went to seek our inspiration rather from the cinema side.
You will be on tour with FLESHGOD APOCALYPSE in 2022. What is your relationship with this group? Your worlds and musical genre are still very different. How do you approach this tour?
FLESHGOD APOCALYPSE is a group made up of excellent musicians and it will be very enriching for us. Although our music is quite different, we have one thing in common which is centered on the image. It is also an opportunity to cross Europe, to visit countries in which we have never played before. Besides, we had the opportunity to add additional dates to this tour. Therefore, we will end in Finland and I am delighted.
What are your plans for the coming months? A new album in preparation perhaps?
Unreal is the first song composed for our next album. We have a lot of work
ahead ofus but we will do everything to ensure that this album is composed, recorded and released in 2022. Other concert dates should still come as well.
Thank you very much and we look forward to meeting each other at a future concert!

Translated from french by Willow Brian Skilbeck. Many thanks to her !

CHAOSEUM will be on tour in support of FLESHGOD APOCALYPSE in 2022 and will pass through France on September 30 at Chez Paulette (Pagney-derrière-Barine, 54), on October 1 in Petit Bain (Paris, 75), on October 4 at Ferrailleur (Nantes , 44) and on October 10 at the Rex (Toulouse, 31).